Hotel Santa Fe Loreto
Hotel in Loreto Baja California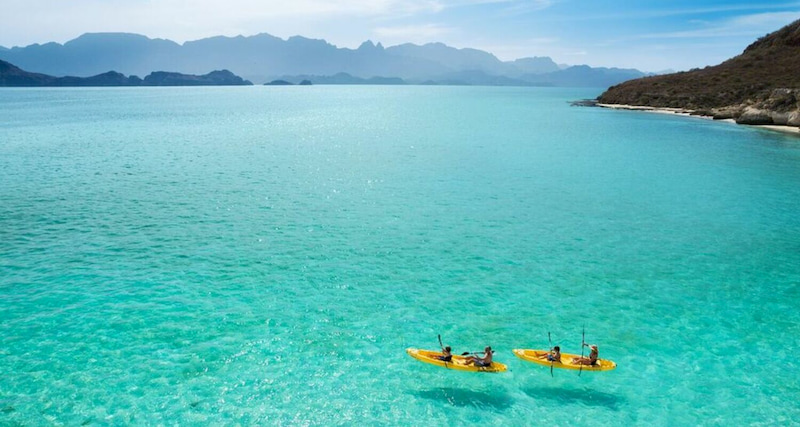 Why book with us?
We know that there are a million ways to book your vacation, but none offer the dedicated customer service, guaranteed low pricing, and personalized service you get when you book directly with us. When you reserve your vacation at Hotel Santa Fe Loreto, you'll also find exclusive hotel deals and special promotions you can't get anywhere else. Why waste time, energy, and money looking around, book your vacation to Loreto Baja California today and revel in what's to come!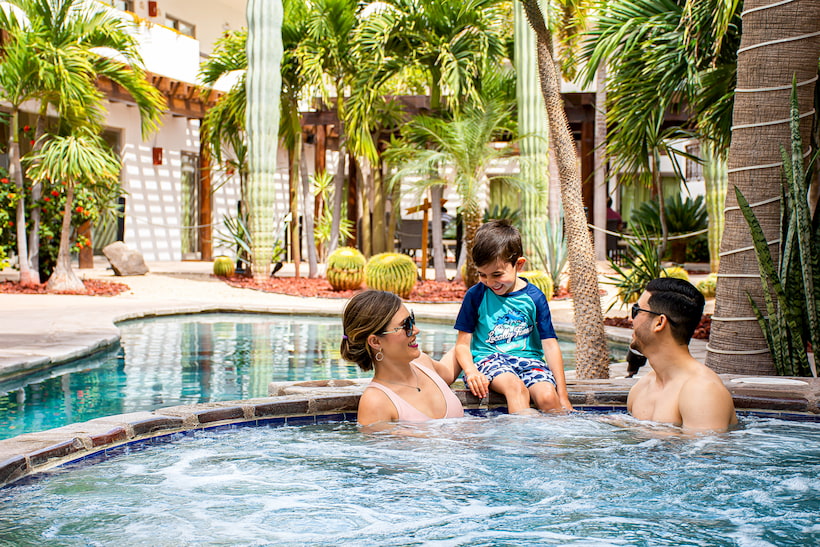 Resort Highlights
Family-sized suites with equipped kitchenettes, air conditioning and flat-screen televisions. *Can sleep up to 8 guests.
Heated Pool & Jacuzzi for relaxing, playing, and refreshing
On-site Palmita Market with everything you need for your vacations to Loreto Baja California Sur and more!
10 minutes from the Loreto International Airport, the only airport located in one of Mexico's "Pueblo Mágicos" (Magical Towns).
Onsite Secure Parking
The best location among hotels in Loreto BCS Mexico, in front of a park, a 15-minute walk to the Malecon, and a 12-minute walk to the Mission of Our Lady of Loreto.
Easy tour bookings through our friendly concierge, who can also help with car rentals.
Shuttle Service ($) for those who wish to visit our sister resort, Villa del Palmar at the Islands of Loreto, or the TPC Danzante Bay golf course.
Santa Fe Loreto is a pet-friendly hotel.
Onsite laundry service.
Located in a destination that ranks 2nd place for snorkeling, 1st place for kayaking, and where diving and paddle boarding are a favorite pastime.
Encounters with the diverse species of the sea, including turtles, manta rays, dolphins, and whales on our diverse water tours, led by certified guides.
A natural reserve that houses more than 80 percent of the aquatic life that lives in the Pacific Ocean. Aquarium of the World-called thus by Jacques Cousteau.
Is nestled nearby of the Loreto Bay National Marine Park, a protected area almost 800 square miles around.
We have 2 of the main and oldest missions nearby, mother of all the missions, Our Lady of Loreto, which was established in 1697, and the mission of San Francisco Javier de Viggé-Biandó, built in 1699.
Hotel Suites Loreto, Mexico
There is nothing better at the end of a long day than a comfortable place to lay your head. At Hotel Santa Fe Loreto by The Villa Group, you'll find that and so much more. This Loreto hotel has a number of different options to fit your group or family's needs, including incredibly spacious suites, kitchenettes, large bathrooms, and the comfort of outdoor areas for taking in the fresh air of Loreto. Whether you're passing by for a day or staying for a month, you and your travel companions will love the convenience, comfort, and versatility of the suites at this hotel in Loreto Baja California Sur.
Hotel Location
Hotel Santa Fe Loreto is conveniently located in the heart of downtown Loreto near a number of the city's must-see attractions, including the Mission of Our Lady of Loreto and the Malecon. At just a ten minute drive from the Loreto airport, a 15-minute walk to the shores of the Sea of Cortez, and a stone's…
Dining
When your longing for a snack or are famished after a day of adventure in Loreto BCS Mexico, visit the Deli, the Loreto hotels onsite restaurant…
Hotel Santa Fe Loreto News & Events
Excellent stay at Hotel San...
Very friendly staff. Great room, cleaning service excellent. Pool was warm and service at the restaurant excellent. The hotel is walking distance to the main center of the city of Loreto and the…
Muy Bien
The staff were very helpful. If I needed anything, I could ask the front desk, the concierges, and the manager. I enjoyed talking with all of them. The room was clean, tidy, and comfortable. It was…
Fantastic Concierge
...My studio room had a kitchenette with all pots, pans, blender. Everything you need. The hotel has a beautiful lobby, pool area and courtyard tables to eat, drink and relax. There is a restaurant…
Great place to enjoy Loreto!
If you want to get the feel for the town of Loreto, then you have come to the right place. Centrally located, the town is at your fingertips. All the activities can be enjoyed by a casual stroll into…
Just as good as it was the ...
We stayed here 10 years ago when it first opened. It was a great property with great friendly staff. This time we came with family and it was just as spectacular. All the rooms are spacious and are…
A great place to stay
This hotel is a good choice for when you are in Loreto. The hotel is clean, the staff is friendly and the suites are comfortable. They try and accommodate any of your requests. We liked the mini…
My beautiful Loreto
My first time in Loreto and I was delighted. We were part of the family and we stayed at the Hotel Santa Fe and it was the best. It is very well located and has very good restaurants nearby. I loved…
Amazing stay!
This hotel is easy to find in a great location close to everything you need to have the time of your life!! I'm all about service and there's definitely no complaints there. Since the moment we…
Amazing place and excellent...
Everything was great! The hotel was wonderful, great tours, services and the recommendations to visit all of the different islands were fantastic! The attention provided was beyond great. Everyone…