Published on 16/10/2020
Casa Mia: A Delicious Dining Option in Loreto
Even though Loreto Mexico may not be as well known as other destinations, it's quickly becoming the choice destination for travelers who want to experience Mexico's unique history and vibrant culture, which of course includes its delicious food. As a growing tourist destination, the restaurants in Loreto serve everything from traditional Mexican classics to foreign fare, like sushi, hamburgers, and Italian pastas. One of the newest places to eat in Loreto Mexico embraces the traditions of Mexican cuisine while welcoming the addition of dishes from around the world. At Casa Mia, you'll find a variety of meals to suit your tastes, including a full Italian menu. Sink your teeth into arrachera steak tacos or creamy alfredo pasta to relax and refuel on your Mexico vacation.
Breakfast
For a day filled with rounds on the golf course and adventures at sea, you'll want to start off with a nutritious breakfast, and at many of the places to eat in Loreto Mexico, the fresh local fruits are the perfect start to the day. Alongside seasonal fruit, yogurt, and granola, your breakfast at Casa Mia can include a variety of hearty egg dishes, like traditional huevos rancheros, eggs served over fried tortillas with refried beans, peppers, and hashbrowns, or huevos a la mexicana, scrambled eggs with tomato, cilantro, serrano peppers, and onion. One of the most popular options for breakfast at Loreto Mexico restaurants is chilaquiles, tortillas fried and cooked in salsa and topped with eggs. You can also customize your own eggs or omelette with different toppings, and if you're craving something sweet, there's French toast, waffles, and pancakes too.
Lunch
The lunch menu at Casa Mia has a little something for everyone: a variety of burgers, soups, salads, Italian pastas, and Mexican favorites. Each dish here is a unique creation, like the Loreto fish sandwich, with freshly caught and breaded fish topped with coleslaw, avocado, and chipotle dressing. There's also a selection of Mexican dishes, including flank steak tacos and chicken enchiladas. What makes Casa Mia unique from other Loreto Mexico restaurants is its Italian dishes. At lunch, choose from buttered pasta or alfredo pasta, or order a pizza, like the Santa Fe pizza topped with a combination of smoked marlin, carrots, tomatoes, poblano pepper, onion, and jalapeño.
Dinner
Dinner at Casa Mia is a full Italian feast, setting it apart from other restaurants in Loreto. Start your meal with focaccia, bruschetta, or a salad before diving into Casa Mia's selection of fine cuts and rich pastas, including tortellini, ravioli, and lasagna. There's also several pizzas available on the dinner menu, as well as marinated steak and fresh fish. Finish your meals off with dessert: flan napolitano, tiramisu, or dolce di melle, apple pie with vanilla ice cream. While there's a variety of delicious Mexican food at restaurants in Loreto, the unique Italian options at Casa Mia add a little variety to your beach vacation, and since every dish is carefully crafted by the chef's, you'll want to savor each bite.
There's so many delicious and fresh places to eat in Loreto Mexico that you'll be able to try something new every day or return to your favorite place over and over. At Casa Mia, you can try a variety of cuisines, but it's their Italian dinner menu that sets them apart from other Loreto Mexico restaurants. Whether you come for breakfast or dinner, order Mexican or Italian classics, you'll leave Casa Mia completely satisfied and full.
Casa Mía Restaurant
Address: Boulevard Salvatierra S/N local Int. B, 23880 Loreto, Baja California Sur, México.
Hour: Open Daily from 7:00 am to 10:30 pm.

Reservations at 613 13 40400.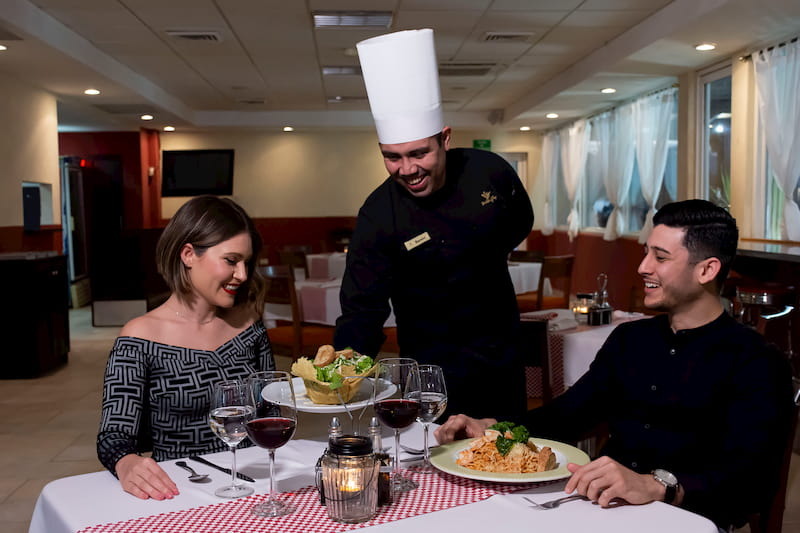 Excellent stay at Hotel San...
Very friendly staff. Great room, cleaning service excellent. Pool was warm and service at the restaurant excellent. The hotel is walking distance to the main center of the city of Loreto and the…
Muy Bien
The staff were very helpful. If I needed anything, I could ask the front desk, the concierges, and the manager. I enjoyed talking with all of them. The room was clean, tidy, and comfortable. It was…
Fantastic Concierge
...My studio room had a kitchenette with all pots, pans, blender. Everything you need. The hotel has a beautiful lobby, pool area and courtyard tables to eat, drink and relax. There is a restaurant…
Great place to enjoy Loreto!
If you want to get the feel for the town of Loreto, then you have come to the right place. Centrally located, the town is at your fingertips. All the activities can be enjoyed by a casual stroll into…
Just as good as it was the ...
We stayed here 10 years ago when it first opened. It was a great property with great friendly staff. This time we came with family and it was just as spectacular. All the rooms are spacious and are…
A great place to stay
This hotel is a good choice for when you are in Loreto. The hotel is clean, the staff is friendly and the suites are comfortable. They try and accommodate any of your requests. We liked the mini…
My beautiful Loreto
My first time in Loreto and I was delighted. We were part of the family and we stayed at the Hotel Santa Fe and it was the best. It is very well located and has very good restaurants nearby. I loved…
Amazing stay!
This hotel is easy to find in a great location close to everything you need to have the time of your life!! I'm all about service and there's definitely no complaints there. Since the moment we…
Amazing place and excellent...
Everything was great! The hotel was wonderful, great tours, services and the recommendations to visit all of the different islands were fantastic! The attention provided was beyond great. Everyone…