Published on 04/07/2020
Dive Sites in Loreto, Mexico
Scuba diving is an indescribable experience that fills you with awe and wonder. Becoming a certified diver opens the doors to the secrets of the sea, and when you go diving in Loreto Mexico, you'll be able to explore what Jacques Cousteau once called "the aquarium of the world." The Sea of Cortez is teeming with hundreds of marine species, and only by diving will you be able to see sea turtles, tropical fish, whale sharks, sting rays, and sea lions up close.
When is the best time to dive in Loreto Mexico?
While diving is an option all year long, the best time to dive in Loreto Mexico is typically from April to December, when visibility and water temperatures are ideal. However, diving in Loreto Mexico depends entirely on your unique interests. For many people, fall is the best time to dive in Loreto Mexico. While the heat of the summer has cooled off, the water is still warm from September to October when visibility is at its best. For others, it is believed to be February through April when humpback and blue whales migrate to the Sea of Cortez. The songs of the whales carry far through the waters giving you something interesting to listen to, but you aren't likely to see the whales while you dive. If you are interested in seeing invertebrates, May through June is the ideal time for Loreto Mexico scuba diving. Depending on what conditions you prefer, you can time your trip accordingly, but remember, no matter what, it's always a good day to dive in the Sea of Cortez.
The Best 5 Sites to Go Scuba Diving in Loreto:
1. Loreto National Marine Park
This marine park is a UNESCO World Heritage Site, and it has the main Loreto Mexico scuba diving sites. It's also home to over 800 species of marine animals and covers 206,000 hectares of the sea. In the Loreto National Marine Park, the main dive sites are at the five uninhabited islands, where underwater cliffs and the rocky sea floor are ideal for exploring.
2. Carmen Island
The largest of all the islands, Carmen Island is surrounded by more than 20 Loreto Mexico scuba diving sites. There's even an old sunken 120-foot fishing boat off the coast of the island, and it's now home to a variety of marine creatures. With a variety of spots to explore, this is one of the most popular islands for diving in Loreto.
3. Danzante Island
The deep canyons and sharp crevices of Danzante Island are home to octopus and moral eels. Keep your eyes open for eagle rays and sea turtles gliding gracefully through the waters here.
4. Coronado Island
Darting around the rock formations of Coronado Island are playful and friendly sea lions. Angelfish, pufferfish, and parrotfish swim nearby too. Around this extinct volcanic island, you'll encounter a variety of the marine animals who call the Loreto National Marine Park home.
5. Punta Coyote
On the south side of Loreto, Puerto Escondido is known for its large yacht marina, but there's also deepwater drop-offs filled with rocks and boulders that make it one of the best Loreto Mexico scuba diving sites. Punta Coyote is the main dive site here, full of sea fans and balloonfish, but just 1.5 miles south, a sunken World War II Minesweeper is waiting to be explored. Some parts of the vessel are 30 feet below the surface, but you'll need more advanced certification to explore the portions that are 70 feet below sea. Danzante Tours offers a number of tour options, but one of their most popular tours takes divers to this incredible site.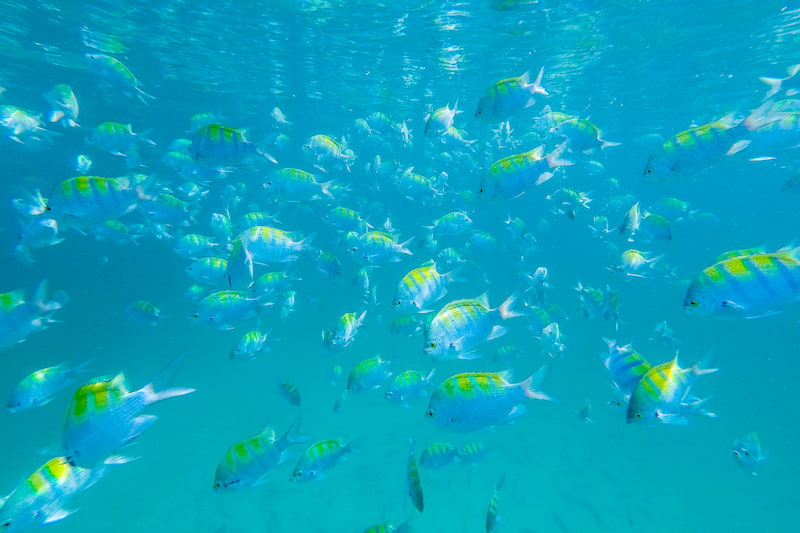 Scuba diving in Loreto is the best way to explore the sea, and there's no feeling like that of being suspended beneath the surface of the water surrounded by a school of fish. With any of the local dive shops, you'll be able to see the wonders of the Sea of Cortez and encounter a variety of marine life. Add a little magic to your next vacation by becoming a certified diver and adding a Loreto Mexico dive site to your log book.
Excellent stay at Hotel San...
Very friendly staff. Great room, cleaning service excellent. Pool was warm and service at the restaurant excellent. The hotel is walking distance to the main center of the city of Loreto and the…
Muy Bien
The staff were very helpful. If I needed anything, I could ask the front desk, the concierges, and the manager. I enjoyed talking with all of them. The room was clean, tidy, and comfortable. It was…
Fantastic Concierge
...My studio room had a kitchenette with all pots, pans, blender. Everything you need. The hotel has a beautiful lobby, pool area and courtyard tables to eat, drink and relax. There is a restaurant…
Great place to enjoy Loreto!
If you want to get the feel for the town of Loreto, then you have come to the right place. Centrally located, the town is at your fingertips. All the activities can be enjoyed by a casual stroll into…
Just as good as it was the ...
We stayed here 10 years ago when it first opened. It was a great property with great friendly staff. This time we came with family and it was just as spectacular. All the rooms are spacious and are…
A great place to stay
This hotel is a good choice for when you are in Loreto. The hotel is clean, the staff is friendly and the suites are comfortable. They try and accommodate any of your requests. We liked the mini…
My beautiful Loreto
My first time in Loreto and I was delighted. We were part of the family and we stayed at the Hotel Santa Fe and it was the best. It is very well located and has very good restaurants nearby. I loved…
Amazing stay!
This hotel is easy to find in a great location close to everything you need to have the time of your life!! I'm all about service and there's definitely no complaints there. Since the moment we…
Amazing place and excellent...
Everything was great! The hotel was wonderful, great tours, services and the recommendations to visit all of the different islands were fantastic! The attention provided was beyond great. Everyone…