Published on 14/12/2022
Explore Loreto Bay National Park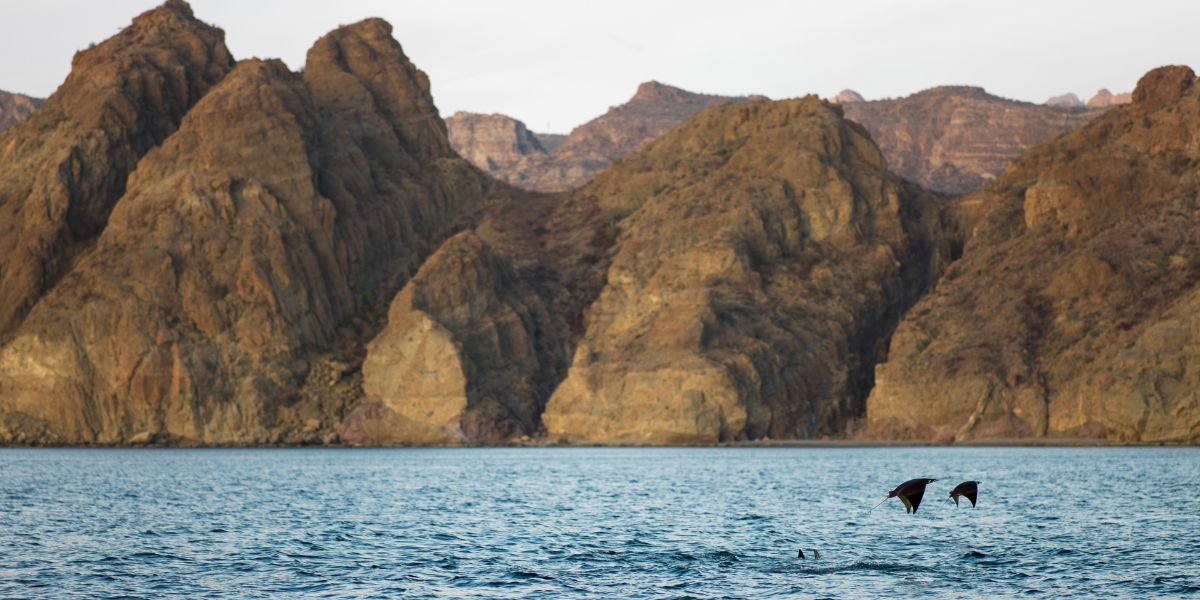 Get ready to fall deeply in love with the breathtaking destination of Loreto, Mexico and its unique Loreto Bay National Park, which is home to one of the most important migratory destinations for whales and other marine animals in the world. The background of this natural reserve's five islands, its biodiversity, and its natural beauty will mesmerize even the most critical eye, and the number of on-site activities it provides create unparalleled adventures for both young and old. Sun and fun invite you to come and enjoy Parque Nacional Bahia de Loreto, the Loreto Bay National Park.
The Sea of Cortez and its Five Jewels
The Sea of Cortez and the five islands that lie offshore of Loreto, Mexico make up the Loreto Bay National Park. Officially declared a National Marine Park in 1996 by the Mexican government and a World Heritage Site in 2005 by UNESCO, Parque Nacional Bahía de Loreto encompasses slightly over 494,000 acres. It gives shelter to a myriad of marine creatures, from tropical schools of fish to gigantic whales. When visiting the destination, you can expect to see the wonders of Mother Nature, particularly if you visit during the months of February and March, which is the migratory season of the great blue whale. It's enormous biodiversity is why the Loreto Bay National Marine Park earned its title as "the World´s Aquarium" by famous explorer, Jacques Cousteau.
Danzante, Carmen, Coronado, Montserrat and Santa Catalina are the names of the five islands that offer the backdrop to numerous activities that you can enjoy while visiting Parque Nacional Bahia de Loreto. When visiting one or more of these islands, you'll see a secluded side of Loreto Mexico where you can soak up the sun, snorkel in crystalline waters, observe unique marine animals including dolphins and sea lions in their natural habitats, and explore the virgin beaches that call the islands home.
Exploring the Loreto Bay National Park with Adventures from A to Sea
Loreto Bay National Park offers a great selection of activities for all family members to enjoy. There are tons of guided tours and activities to the islands of Loreto, including sailing tours, snorkeling and scuba diving expeditions, island tours that explore the rich history of Loreto, and more. Take some time to scout them out, believe us when we say there's plenty to choose from. Whether you opt to snorkel, kayak, dive, fish, hike, or just bask under the sun, there's something for everyone to enjoy.
If you want to get to one of the Islands of Loreto, you'll most likely need to book a guided tour service ahead of time, which can be done by checking online and finding the best fit for you or by checking with the concierge at your hotel. As a suggestion, make sure to hire an authorized tour guide/activity. Another helpful tip is to bring the essentials, such as biodegradable sunscreen, a towel, a hat, water, and something to munch on, particularly if you are bringing along little ones that may require extra care. Your camera is also a must to capture all the memories!
Also denominated a Ramsar 2004 site, Parque Nacional Bahía de Loreto is an important site holding space for species that have been endangered. Your visit goes a long way in creating awareness and preserving for future generations to continue to visit. Enjoy and partake by visiting one of the most extraordinary marine settings in the world, Loreto Bay National Park.
Excellent stay at Hotel San...
Very friendly staff. Great room, cleaning service excellent. Pool was warm and service at the restaurant excellent. The hotel is walking distance to the main center of the city of Loreto and the…
Muy Bien
The staff were very helpful. If I needed anything, I could ask the front desk, the concierges, and the manager. I enjoyed talking with all of them. The room was clean, tidy, and comfortable. It was…
Fantastic Concierge
...My studio room had a kitchenette with all pots, pans, blender. Everything you need. The hotel has a beautiful lobby, pool area and courtyard tables to eat, drink and relax. There is a restaurant…
Great place to enjoy Loreto!
If you want to get the feel for the town of Loreto, then you have come to the right place. Centrally located, the town is at your fingertips. All the activities can be enjoyed by a casual stroll into…
Just as good as it was the ...
We stayed here 10 years ago when it first opened. It was a great property with great friendly staff. This time we came with family and it was just as spectacular. All the rooms are spacious and are…
A great place to stay
This hotel is a good choice for when you are in Loreto. The hotel is clean, the staff is friendly and the suites are comfortable. They try and accommodate any of your requests. We liked the mini…
My beautiful Loreto
My first time in Loreto and I was delighted. We were part of the family and we stayed at the Hotel Santa Fe and it was the best. It is very well located and has very good restaurants nearby. I loved…
Amazing stay!
This hotel is easy to find in a great location close to everything you need to have the time of your life!! I'm all about service and there's definitely no complaints there. Since the moment we…
Amazing place and excellent...
Everything was great! The hotel was wonderful, great tours, services and the recommendations to visit all of the different islands were fantastic! The attention provided was beyond great. Everyone…