Published on 25/11/2022
Things to Do in Loreto at Night
Loreto Mexico is a beautiful tourist destination that you can enjoy day and night! After spending a day at the beach, visiting one of the islands, Loreto's boardwalk, or the famous Mission of Loreto, you might be wondering what are some of the best things to do in Loreto at night. Loreto nightlife may be different compared to that of Los Cabos, Puerto Vallarta, or Cancun, but nightlife in Loreto offers unique things to do to enjoy the beautiful destination of Loreto after sunset.
6 of the Best Things to Do in Loreto at Night:
1.
Stargazing
There is nowhere like Loreto to watch the stars. The Baja California Peninsula is recognized as one of the best places in Mexico for stargazing due to the city of Loreto's low level of light pollution, as well as Loreto's special weather, which allows this dream destination to have clear skies most of the year. When night falls, in Loreto you can admire the night sky full of stars from almost anywhere in the city. We recommend you go to the beach and sit down to enjoy the wonderful night sky and atmosphere. You will be amazed at the splendid scenery when observing the stars. Some locals indicate that Jupiter can be seen very close to the moon, so don't miss out on one of the best things to do in Loreto at night; a total nocturnal spectacle offered by nature just for you to indulge in Loreto's lights in the sky.
2.
Go Sunset Crazy with Wild Loreto
If Loreto's night sky is impressive, Loreto's sunsets are breathtaking. Before nightfall in Loreto, don't miss the sunset aboard a catamaran to add some awe to the Loreto nightlife lineup. The sunsets in Baja are spectacular and are best seen from the sea. Wild Loreto offers a catamaran ride to Danzante Island at sunset, where you can enjoy a lively evening with music, cocktails, and snacks, along with the most astonishing views of the Loreto Islands and the Sierra de la Giganta mountains. The colors of Loreto's sunsets shimmer over the sea as the shadows behind the mountains bid farewell to another day in paradise. With a boat capacity of 20 people, there is plenty of space for families or couples hoping to enjoy the Loreto nightlife.
Reserve this tour by calling at +52 613 135 1424 or click here: https://www.wildloreto.com/ocean-tours/catamaran-sunset-cruise/

3. Drink and Dine in Loreto at Night
If it's the nightlife in Loreto you're looking for on your upcoming trip to Loreto Mexico, the following suggestions will be worth your while. These Loreto restaurants are considered essential for any visitor to this paradisiacal destination by the Sea of Cortez.


4.
Walk the Walk to the Loreto Boardwalk
The Malecón of Loreto is a walkway by the sea that offers a recreational site for locals and tourists during the day and at night. Above all other great things to do in Loreto at night you will find taking a walk outdoors, breathing the fresh air and enjoying the serene atmosphere of this beautiful, magical town a true delight. Observing Loreto's lighthouse standing tall at Loreto's City Pier, the sculptures of sea lions and blue whales, representative of the region, and stopping for the iconic picture at the famous Loreto letters is all a must when you visit Loreto.
5.
Loreto's Main Square
After touring Loreto's Malecón, you can continue exploring the nightlife in Loreto by walking past Loreto's boardwalk through the well-known Arch leading to the Salvatierra walkway until you reach the main square of Loreto. Along the way you'll find many restaurants, bars and local food stalls, offering options for every taste, age and budget. Whether you sit and relax on the benches in the plaza, grab a local snack, or enjoy a meal or drink at a restaurant, you'll notice that Loreto still retains that charming, laid-back atmosphere of a traditional Mexican town.
6. Awe-mazing LED Paddle Board Tour at Danzante Bay
Experience the nightlife in Loreto in a totally different and unexpected way! If you like adventure and love exciting experiences, one of your favorite things to do in Loreto at night in Loreto should be the LED Paddle Board tour at sunset. This unique and fun activity, which is perfect to enjoy during your next vacation in Loreto, takes you on a paddle board with LED lights connected to the bottom that illuminate the seabed and attract species that can only be admired after sunset or just at night, so you never know what creatures you'll be able to admire during your sunset adventure! An experienced guide will accompany you as you head towards a reef in the south of White Cove in Loreto. This tour is available only for guests staying at Villa del Palmar at the Islands of Loreto.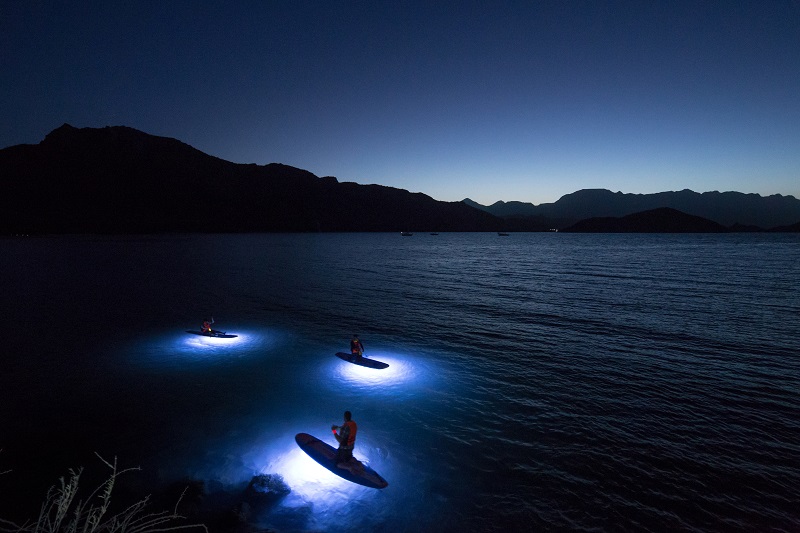 The Loreto nightlife scene is definitely very different from that of other Mexican beach destinations, yet Loreto stands out as a very unique and special destination where its nightlife shines bright with nature, pleasure, and adventure.
Excellent stay at Hotel San...
Very friendly staff. Great room, cleaning service excellent. Pool was warm and service at the restaurant excellent. The hotel is walking distance to the main center of the city of Loreto and the…
Muy Bien
The staff were very helpful. If I needed anything, I could ask the front desk, the concierges, and the manager. I enjoyed talking with all of them. The room was clean, tidy, and comfortable. It was…
Fantastic Concierge
...My studio room had a kitchenette with all pots, pans, blender. Everything you need. The hotel has a beautiful lobby, pool area and courtyard tables to eat, drink and relax. There is a restaurant…
Great place to enjoy Loreto!
If you want to get the feel for the town of Loreto, then you have come to the right place. Centrally located, the town is at your fingertips. All the activities can be enjoyed by a casual stroll into…
Just as good as it was the ...
We stayed here 10 years ago when it first opened. It was a great property with great friendly staff. This time we came with family and it was just as spectacular. All the rooms are spacious and are…
A great place to stay
This hotel is a good choice for when you are in Loreto. The hotel is clean, the staff is friendly and the suites are comfortable. They try and accommodate any of your requests. We liked the mini…
My beautiful Loreto
My first time in Loreto and I was delighted. We were part of the family and we stayed at the Hotel Santa Fe and it was the best. It is very well located and has very good restaurants nearby. I loved…
Amazing stay!
This hotel is easy to find in a great location close to everything you need to have the time of your life!! I'm all about service and there's definitely no complaints there. Since the moment we…
Amazing place and excellent...
Everything was great! The hotel was wonderful, great tours, services and the recommendations to visit all of the different islands were fantastic! The attention provided was beyond great. Everyone…