Published on 09/09/2020
Is Loreto Mexico Safe for Travel?
Loreto Mexico is the ideal destination for travelers looking for all the beauty and excitement of a Mexico vacation but without crowds of tourists. The small-town charm of the city and it's warm hospitality make it the perfect spot for everything from family vacations to romantic getaways.
As you dream of the ocean breeze rustling through palm trees, there may be one very important question on your mind: Is Loreto Mexico safe? Despite what you may hear on the news or watch in movies, most of the popular destinations in Mexico are very safe and welcoming to visitors, and when you book a vacation to Loreto, you'll be able to relax in peace and play to your heart's content.

Can I Travel to Mexico Right Now?
Many travelers' plans were scrapped when travel bans and border closures were announced earlier this year, and one of the biggest announcements was a set of new restrictions at the Mexico border. To slow the spread of the Coronavirus, non-essential border crossings were halted. However, this Mexico travel advisory only applied to the land border and crossings by foot or car. Throughout the year, airports have remained open in Mexico, and citizens of both the U.S. and Mexico have been able to freely travel back and forth. While many other countries are still closed to American tourists, Mexico is still welcoming international guests.
Is Mexico Safe for Foreigners?
The U.S. Department of State keeps regular tabs on the safety of destinations around the world, and because Mexico is made up of 32 beautifully diverse states, the department posts updates on each one. If you're looking for information on how safe is Loreto Mexico, you'll want to look at their information about Baja California Sur, the state where Loreto is located.
While the U.S. government does note heavier warnings for bigger cities, they point out the safety of tourist destinations: "There are no restrictions on travel for U.S. government employees in Baja California Sur, which includes tourist areas." The economy in cities like Loreto depend on tourism, so business and community leaders are dedicated to making sure foreigners always feel welcome and secure. For them, Loreto Mexico safety is a top priority.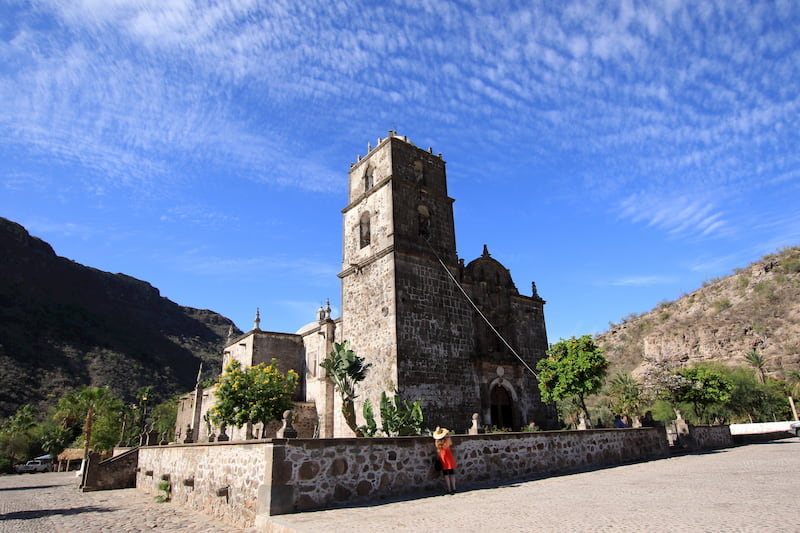 How Safe is Loreto Mexico?
While the country is open, many people still want to know "Is Loreto Mexico safe for travelers?" At the beginning of the pandemic, the city quickly closed many businesses, and resorts waved goodbye to their final guests of the winter. Because of this, the city has overcome the worst of the pandemic by continuing to implement preventive measures.
The city has even received the Safe Travels Stamp from the World Travel & Tourism Council because of these ongoing efforts. As you look for where to travel, the Safe Travels Stamp gives tourists an idea of how safe is Loreto Mexico. You can also research the specific health protocols your resort is implementing. However, your Loreto Mexico safety depends on your choices as well. Carry hand sanitizer and a mask with you when you're out and about, and always follow posted safety guidelines.
First-time travelers may wonder "Is Loreto Mexico safe?", but those who have strolled the cobblestone streets and sat in restaurants while listening to locals greet each other know that this charming town is one of the safest in Mexico. It's this Loreto Mexico safety that has made it the premier destinations for those wanting to relax and unwind without a care in the world. When you book your Loreto vacation, you'll only have to think about what type of fresh seafood to order at dinner and how often to apply your sunblock.
Excellent stay at Hotel San...
Very friendly staff. Great room, cleaning service excellent. Pool was warm and service at the restaurant excellent. The hotel is walking distance to the main center of the city of Loreto and the…
Muy Bien
The staff were very helpful. If I needed anything, I could ask the front desk, the concierges, and the manager. I enjoyed talking with all of them. The room was clean, tidy, and comfortable. It was…
Fantastic Concierge
...My studio room had a kitchenette with all pots, pans, blender. Everything you need. The hotel has a beautiful lobby, pool area and courtyard tables to eat, drink and relax. There is a restaurant…
Great place to enjoy Loreto!
If you want to get the feel for the town of Loreto, then you have come to the right place. Centrally located, the town is at your fingertips. All the activities can be enjoyed by a casual stroll into…
Just as good as it was the ...
We stayed here 10 years ago when it first opened. It was a great property with great friendly staff. This time we came with family and it was just as spectacular. All the rooms are spacious and are…
A great place to stay
This hotel is a good choice for when you are in Loreto. The hotel is clean, the staff is friendly and the suites are comfortable. They try and accommodate any of your requests. We liked the mini…
My beautiful Loreto
My first time in Loreto and I was delighted. We were part of the family and we stayed at the Hotel Santa Fe and it was the best. It is very well located and has very good restaurants nearby. I loved…
Amazing stay!
This hotel is easy to find in a great location close to everything you need to have the time of your life!! I'm all about service and there's definitely no complaints there. Since the moment we…
Amazing place and excellent...
Everything was great! The hotel was wonderful, great tours, services and the recommendations to visit all of the different islands were fantastic! The attention provided was beyond great. Everyone…