Published on 19/04/2022
6 Places to Visit Near Loreto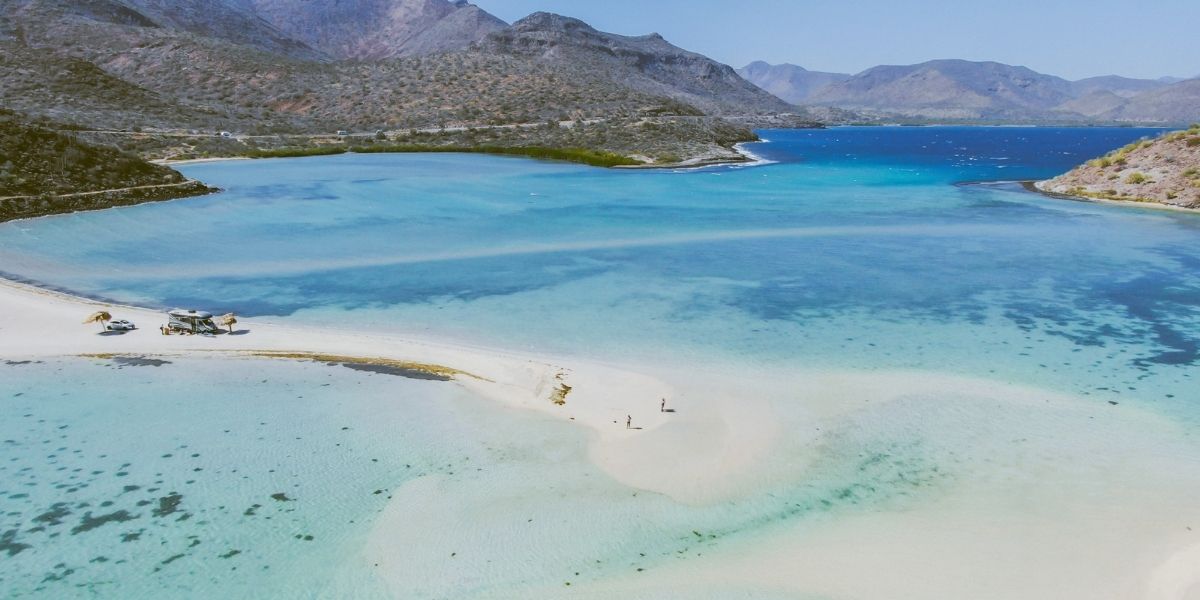 If you've ever been to Baja California, it can be extremely tempting to rent a car and hop from town to town. There are so many things to see in and around the region, that a day trip or two can satisfy your curiosities and leave you feeling enamored with life near Loreto. The following is a list of things to do near Loreto, Mexico that will inspire your vacation and help you make incredible memories.
1. Coronado Island
By far, one of the best things to do near Lotero is visit the islands that pepper the Sea of Cortez. Coronado Island is among the favorites. It is a little over four miles long and provides an escape from everyday life. After sailing across the sea, you can spend time on the virgin island birdwatching, sunbathing, and exploring, or in the water snorkeling and enjoying the diverse marinelife that inhabits the Loreto Bay National Marine Park.
2. San Javier
At just an hour from Loreto, the San Javier Mission makes for a fantastic day trip when you're looking for things to do near Loreto. It is the second Spanish settlement in the Californias and the site has a rich history worth exploring. Nicknamed the "the jewel of the Baja California mission churches," the site has a beautiful church, dams, aqueducts, and stone buildings to explore.
3. Mulege
If you are looking for towns near Loreto that are worth a visit, Mulege is one of your top options. North of Loreto, this small town is home to the Misión Santa Rosalía de Mulegé, which was built in 1705 and nearby you'll find historic cave paintings, such as those at La Trinidad, Los Venados, and San Borjitas. If you plan to spend a few days in Mulege, you can make a day trip out of seeing the cave paintings and the Piedras Pintas, a collection of petroglyphs that are impressive. Mulege is a 2 hour and 15 minute drive from Loreto, but if you have a car it is well worth the visit.
4. La Paz
If you're driving down the Baja Peninsula, you'll likely head south of Loreto to the city of La Paz, the capital of Baja California Sur. Here you'll find beautiful beaches, cool parks, art by national and international artists, and a ton of restaurants that give you the perfect seaside views. The city is about 4 ½ hours from Loreto, which makes is a great option if you're planning a road trip to different destinations in Baja.
5. La Pinguica Mountain Cave Paintings
Near Loreto, you can find a variety of cave paintings that give us a window into the history of the region. One of the closest is La Pinguica (also known as "Canipole"), which sits about an hour and half north of the city. While you can go on your own, it is best to take a guided tour to the cave paintings because the road up requires an off-road vehicle and there is a bit of a hike along a dried out riverbed that can be confusing. Once you arrive, you'll find ancient petroglyphs (rock carvings), pictographs (cave paintings), and encounters with the flora and fauna that are native to the region.
Photo: 2019 Cindi Christie/Cyanpixel.
6. Magdalena Bay
One of the most incredible things to do near Loreto is going to Magdalena Bay where whale watching is simply amazing. This nursery to the whales is located on the Pacific coast of the Baja Peninsula, about 2 hours from Loreto. The best way to experience the whales is to take a guided tour. In a van, you'll leave the city and head to the ocean, where you'll spend a few hours on a boat searching for mama whales and their babies. The up close encounters are frequent, but not guaranteed as the animals are wild and dictate their interactions. With that being said, they are often playful and come right up to the boats, giving you an incredible opportunity for once-in-a-lifetime experiences.
Excellent stay at Hotel San...
Very friendly staff. Great room, cleaning service excellent. Pool was warm and service at the restaurant excellent. The hotel is walking distance to the main center of the city of Loreto and the…
Muy Bien
The staff were very helpful. If I needed anything, I could ask the front desk, the concierges, and the manager. I enjoyed talking with all of them. The room was clean, tidy, and comfortable. It was…
Fantastic Concierge
...My studio room had a kitchenette with all pots, pans, blender. Everything you need. The hotel has a beautiful lobby, pool area and courtyard tables to eat, drink and relax. There is a restaurant…
Great place to enjoy Loreto!
If you want to get the feel for the town of Loreto, then you have come to the right place. Centrally located, the town is at your fingertips. All the activities can be enjoyed by a casual stroll into…
Just as good as it was the ...
We stayed here 10 years ago when it first opened. It was a great property with great friendly staff. This time we came with family and it was just as spectacular. All the rooms are spacious and are…
A great place to stay
This hotel is a good choice for when you are in Loreto. The hotel is clean, the staff is friendly and the suites are comfortable. They try and accommodate any of your requests. We liked the mini…
My beautiful Loreto
My first time in Loreto and I was delighted. We were part of the family and we stayed at the Hotel Santa Fe and it was the best. It is very well located and has very good restaurants nearby. I loved…
Amazing stay!
This hotel is easy to find in a great location close to everything you need to have the time of your life!! I'm all about service and there's definitely no complaints there. Since the moment we…
Amazing place and excellent...
Everything was great! The hotel was wonderful, great tours, services and the recommendations to visit all of the different islands were fantastic! The attention provided was beyond great. Everyone…