Published on 31/01/2023
First Timer - La Paz or Loreto?
The best places to visit in Mexico have so much to offer that it can be daunting to make a choice about where to travel, especially if you're headed to the Baja Peninsula, where stunning natural beauty meets relaxing seaside towns that have gained recognition among travelers seeking the laid-back life. If this is your first time traveling to Baja, there are two destinations, La Paz and Loreto, that provide the perfect combination of adventure, natural beauty, and relaxation, the sweet trio so many are looking for. With so much hype circling each of these paradisiacal destinations, how do you choose? Read on to find out just what each of these memorable towns has to offer.
La Paz or Loreto - Two of the Best Places to Visit in Mexico
Just a few hours drive from Cabo San Lucas, La Paz, Baja California has grown into a top tourist destination, with visitors opting to escape the crowds of Cabo while enjoying the picturesque landscapes of the beaches on the Sea of Cortez. Further north, Loreto, Mexico is emerging as one of the trendiest beach destinations in Mexico, conquering the world with its unique small town or pueblito feel, while keeping the relaxed ambiance that few Mexico destinations still possess. While both destinations offer stunning natural beauty, there are a few points that separate the two.
Loreto
La Paz
Where in Baja?
La Paz is located to the south of the Baja Peninsula, just a couple hours away from Los Cabos, while Loreto Baja California is located right at the center of the Baja Peninsula, where the Sea of Cortez bathes its sandy beaches. Both La Paz and Loreto have been blessed with the beautiful backdrop of the desert meeting the ocean, yet when it comes to scenic views the landscapes found in the shores of Loreto, its islands and the Loreto Bay National Marine Park are just breathtaking. Consisting of 5 main islands, the Islands of Loreto are home and shelter to countless flora and fauna, above and underwater. Many marine species travel here during winter, like the gray and blue whales, and many others are found year-round, like manta rays, dolphins, sea turtles and Loreto even has its own local sea lion colony. It is no mistake that Jacques Cousteau named the wonders of Loreto, the "Aquarium of the World."
Magic Town Vibes
La Paz is certainly among the best places to visit in Mexico, especially if you're looking for the hustle and bustle of a busier town, with great amenities, activities, and varied nightlife. However, if you're looking for a laid back, tranquil setting with smaller crowds and a picturesque traditional Mexican coastal town, the Pueblo Mágico of Loreto is truly that, magical. Safe and more relaxing, in Loreto you can walk practically anywhere while enjoying the historic setting that is home to the first mission of the Californias. The Loreto Malecon and city square are walking distance from most hotels in the Loreto city center, and you can find public beaches at each side of the Malecon for a quick stop while shopping or sightseeing. Although a smaller town, there is a lot to see and do in Loreto. Historic sites like the Mission of Our Lady of Loreto and the Missions Museum bring the past to the present, making your beach vacation an immersive experience into the region's history and culture. And taking off to the Loreto islands adds adventure to the already rich melting pot of nature, history, sun and fun.
La Paz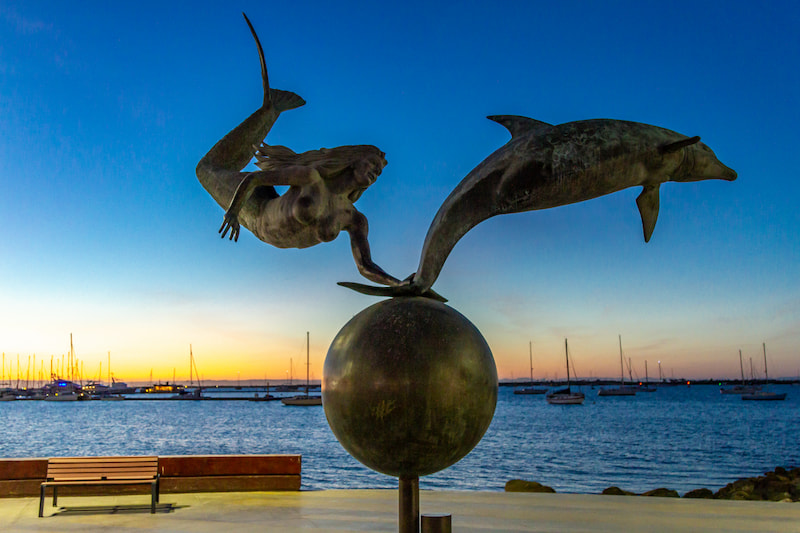 Loreto
Ama-SEA-ng Adventures
Both La Paz and Loreto have great activities to offer visitors, both inland and at sea, but Loreto tends to be better known for its diverse aquatic activities that will take your breath away. Both La Paz and Loreto are great spots for whale watching, snorkeling and scuba diving, but each is simply more remarkable in Loreto, due in part to its location on the Loreto Bay National Park. While both are top notch sites for these and other amazing activities at sea, such as fishing, Loreto offers the fun without the crowds. Snorkeling, paddleboarding, and diving out from the Loreto Islands allows you to immerse yourself in the surreal waterworld of the protected area of Loreto Bay National Park. Moreover, according to a national publication on the best beach destinations to visit in Mexico, La Paz was awarded the 4th place among the most beautiful beaches in Mexico, while the beach known as Nopoló in Loreto was awarded 2nd, highlighting Nopoló's stunning black sand beaches and its deep blue water.
Carmen Island, Loreto
Playa Balandra, La Paz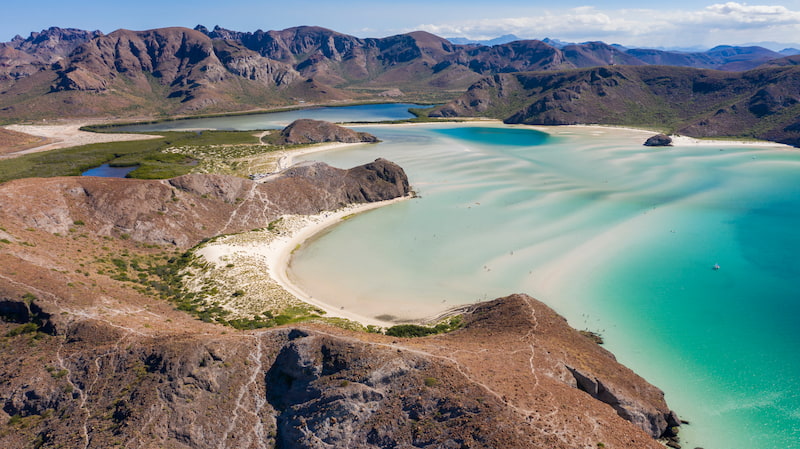 La Paz or Loreto?
From the city vibes in La Paz to the tranquil Magic Town life of Loreto, choosing your final destination in Baja can be a breeze if you know what you want out of your vacation. If you're seeking the idyllic combination of relaxation and adventure, Loreto is definitely the way to go.
Excellent stay at Hotel San...
Very friendly staff. Great room, cleaning service excellent. Pool was warm and service at the restaurant excellent. The hotel is walking distance to the main center of the city of Loreto and the…
Muy Bien
The staff were very helpful. If I needed anything, I could ask the front desk, the concierges, and the manager. I enjoyed talking with all of them. The room was clean, tidy, and comfortable. It was…
Fantastic Concierge
...My studio room had a kitchenette with all pots, pans, blender. Everything you need. The hotel has a beautiful lobby, pool area and courtyard tables to eat, drink and relax. There is a restaurant…
Great place to enjoy Loreto!
If you want to get the feel for the town of Loreto, then you have come to the right place. Centrally located, the town is at your fingertips. All the activities can be enjoyed by a casual stroll into…
Just as good as it was the ...
We stayed here 10 years ago when it first opened. It was a great property with great friendly staff. This time we came with family and it was just as spectacular. All the rooms are spacious and are…
A great place to stay
This hotel is a good choice for when you are in Loreto. The hotel is clean, the staff is friendly and the suites are comfortable. They try and accommodate any of your requests. We liked the mini…
My beautiful Loreto
My first time in Loreto and I was delighted. We were part of the family and we stayed at the Hotel Santa Fe and it was the best. It is very well located and has very good restaurants nearby. I loved…
Amazing stay!
This hotel is easy to find in a great location close to everything you need to have the time of your life!! I'm all about service and there's definitely no complaints there. Since the moment we…
Amazing place and excellent...
Everything was great! The hotel was wonderful, great tours, services and the recommendations to visit all of the different islands were fantastic! The attention provided was beyond great. Everyone…